Meet Attorney
Stephen R. Glazer
Call For A Consultation
Education
Stephen R. Glazer graduated with a Bachelor of Arts, Political Science degree in 1993 from Eastern Illinois University. He received his Juris Doctor Law Degree in 1998 from Washburn University School of Law.
Bar Associations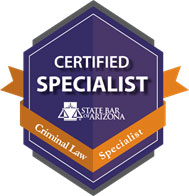 Licensed by the State Bar of Arizona in 1999, Steve Glazer began his legal career as a prosecuting Deputy County Attorney at the Gila County Attorney's Office. He continued his career as a Deputy County Attorney at the Coconino County Attorney's Office. Wanting to remain in beautiful Flagstaff, Arizona and further his legal knowledge and experience, Stephen Glazer opened his own firm, The Glazer Law Office, PLLC, focusing on criminal law as a Flagstaff attorney in 2002, eventually merging law firms with Keith A. Hammond in January of 2018.
Since 2002, criminal defense lawyer Stephen Glazer has successfully defended thousands of clients in all areas of criminal law in both state and federal courts throughout northern Arizona. If you are accused of DUI (Driving Under the Influence), Felony and/or Misdemeanor Assault, a Drug Charge (Heroin, Cocaine, Marijuana, Methamphetamine, etc.), a Gun Charge, a Sex Crime, Murder, Theft and/or a Theft-Related Charge, or other criminal offense, Flagstaff attorney Stephen Glazer may be able help you with your case.

On July 8, 2011 Stephen Glazer was selected as one of Arizona's Finest Lawyers and has remained one of Arizona's Finest Attorney's since. Based on a peer-reviewed nomination, the Executive Board selected Stephen Glazer because of his demonstrated record of high achievement, excellent legal skills, and a well-earned reputation for integrity.
In September 2011, Stephen Glazer, on behalf of the Board of Legal Specialization of the State Bar of Arizona was awarded the certification as a Certified Criminal Law Specialist.
In recent years, Steve has expanded his legal scope to include Estate Planning. Having learned from the best, Steve has taken over the role as the primary estate planning attorney from Philip Quindry. Now, Steve splits his time between criminal defense and estate planning while maintaining his dedication to providing excellent legal services.
Steve's hobbies include hiking, competitive poker, travel, personal finance, and watching the Chicago Cubs. It's been said that the greatest baseball game that ever occurred happened on a cold Wednesday night in Cleveland. It was when the Cubs won the World Series in 2016.
Steve Glazer has received many excellent ratings from other lawyers and clients. To read client reviews, please visit our testimonial page.
To directly speak with Steve
call (928) 213-5916.